The United States is unrecognizable. America's reality is now that of a nation afflicted with violent protests and rabid discrimination. Charlottesville, Virginia exposed itself as a cesspool for neo-Nazis and the Klu Klux Klan. Graphic images of white men and women carrying lit tiki torches and  swastika flags flooded across the internet along with videos in which these villains verbally express their hate. One of them is a new mother, claiming that the Jews "are a poison and need to be eradicated."
The fight to combat hatred and bigotry towards the Jewish people is re-emerging across the country and across college campuses.
In 2017, Jewish people find themselves residing in a nation that once fought to eliminate the world of such poison just seven decades ago — yet the poison  lingers. The less than 100,000 remaining Holocaust survivors in America assumed the evil would not be offered the opportunity to re-emerge.
The Jewish community continues to be targeted — even at San Diego State.
Halima Eid, a recent psychology graduate from SDSU, and former Associated Students representativeand Events Coordinator for Students for Justice in Palestine (SJP), was responsible for writing a series of now deleted anti-Semitic tweets — which have resurfaced.
In these tweets, Eid encouraged people to kill themselves, made homophobic remarks, denied the existence of the Holocaust, and supported Adolf Hitler — all while emphasizing her desire to murder those in support of the self-determination of the Jewish people.
Eid's Twitter account has since been deleted.
The significance that lies within these statements is the platform they stood on — a public social media account. Social media has become the knife held in the hands of anti-Semites
 who use it to penetrate wounds into innocent Jews and Zionists.
Eid purposely took to Twitter to advocate for violence towards a marginalized group of people. Her statements, which now appear to be deleted, were kept online for years.
She even goes far enough to announce her support for Hamas, a widely recognized terror organization.
Eid's written declarations were retweeted and favorited by users who condone her attitudes towards supporters of the Jewish state. Her tweets could be viewed as a call to action — a call to eradicate the world of those who support Israel.

Perhaps the most troubling aspect of these posts is one in which she suggests Zionists to commit suicide.  Eid now has a degree in psychology.
On February 11, 2017, SJP posted on Facebook notifying its followers of a series of tweets posted by a member of their organization years prior to the start of their membership. The post claimed that "the tweets were made against the Jewish and LGBTQ community and were extremely bigoted, racist, and offensive in nature. Our organization stands unequivocally against anti-Semitism, homophobia, and all forms of bigotry and racism." The member was said to have resigned from their position.
While it is not known that these tweets belonged to Eid's account, the organization didn't mention the violence promoted in the tweets towards Zionists.
As the organization's events coordinator, Eid had influence in the organization.
That the organization ignored Eid's tweets for so long comes as no surprise considering the organization's history with anti-Semitic criticism of the Zionist cause.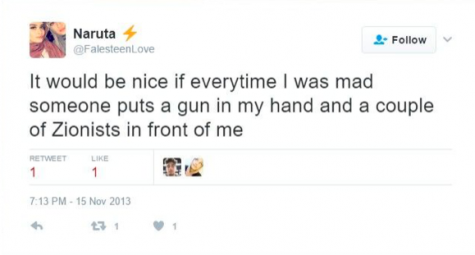 Eid is no longer enrolled at the university having graduated in the spring. However, she is an alumna and part of an anti-Semitic history.
Although a resolution to combat anti-Semitism was passed by Associated Students in the spring, it does not excuse the university's history of hatred and abuse towards Jewish students and is not to be forgotten. Anti-Semitism in any from is reprehensible. Anti-Semitism has neither evolved nor decreased and continues to play a role in the SDSU community.
While the United States must condemn all forms of bigotry,  the work must begin at the local level.
Halima Eid voted against the resolution to condemn anti-Semitism at San Diego State.
Halima Eid and Students for Justice in Palestine did not return Talia Raoufpur's request for a comment.
This article was originally published in The Daily Aztec, San Diego State University's campus paper.
Contributed by SDSU CAMERA Fellow Talia Raoufpur.